Boards
Paprium information we know
05/12/2017 - 23:59
En regardant sur Gamopat le topic Paprium, je tombe sur une question au sujet d'un GIF que j'avais posté ici même¹.
http://www.gamopat-forum.com/t92909p870-topic-officiel-project-y-paprium
F.L le Mer 15 Nov 2017, je viens de me rendre compte que c'etait un fake, c'tait trop beau ....
Paradis le Mer 15 Nov 2017 - 20:21
La vache, super beau en effet !
ça passerai un truc pareil sur la MD ?
La réponse est non car le montage était là pour corroborer mes pensées sur la présence d'un décor pour le fond donc nul besoin de respecter la résolution de la
soit 320x224 pixels.
Du coup je me suis penché sur les screens proposés par
et le compte est bon au niveau des pixels, à 11px près, manquants systématiquement en hauteur "si les proportions sont conservées sinon ils sont simplement contractés" ce qui est certainement du à la méthode de screenshot pour s'adapter au format standard du 1024px de large².
http://www.paprium.com/press/?language=fr
On retrouve donc un scaling de x3.2 par rapport à la résolution native "ce qui explique le rendu baveux rempli d'artefacts"³.
Point de repère au niveau du dithering.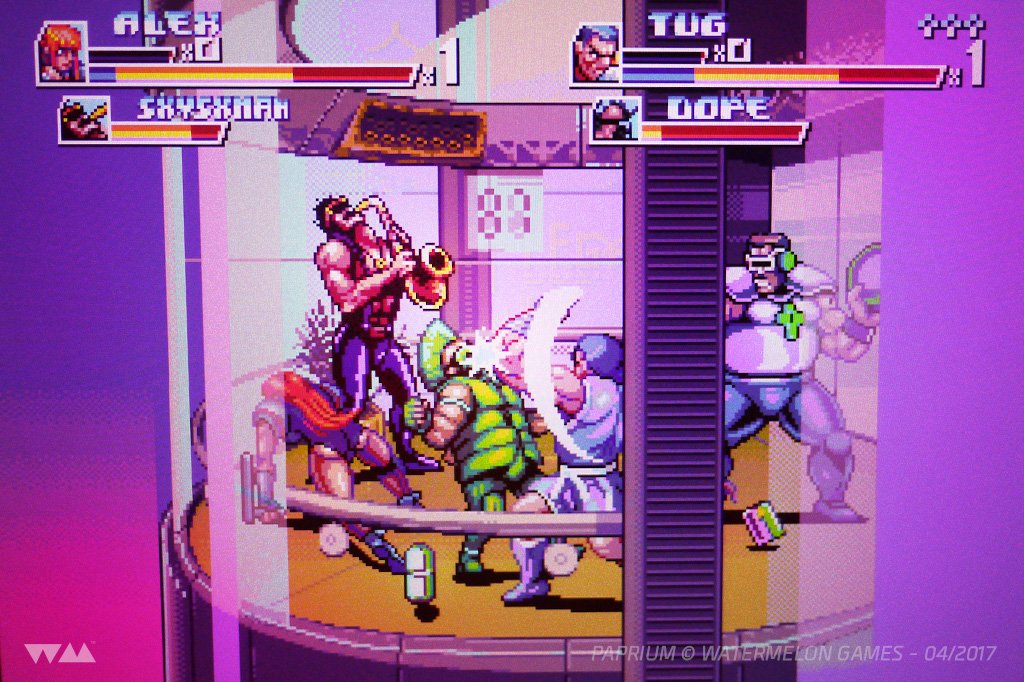 Sur cette image donc, la largeur du fond n'est pas tronquée ce qui m'oblige à réviser mon GIF.
Maintenant pour revenir à la question de Paradis, ce screen est maintenant possible sur une MD.(4)
________________________________________________
1.↑ Looking at the Gamopat topic Paprium, I come across a question about a GIF that I posted here.
2.↑ So I looked at the screens proposed by
and the account is good at the pixel level, 11px, always missing height which is certainly due to the screenshot method to adapt to the standard format 1024px wide "if the proportions are preserved otherwise they are simply contracted".
3.↑ So we find a scaling of x3.2 compared to the native resolution "which explains this grainy image filled with artifacts".
4.↑ Now to return to the question of Gamopat members, this screen is now possible on a MD.
________________________________________________
(edit) : Community manager on Facebook - 07/12/2017
Yes, we are running. But not running away. 3 news coming :
1. We received your money one month ago. Took some extra painful time
2. We are very busy at manufacturing the game. Over 50 factories are involved and every single part are getting stacked in our warehouse for final assembly!
3. Game will be back on preorder very shortly, everyone will get notified by email when so.
As reminder, anyone not willing to wait and asking for refund will be refunded. Just be a little bit patient because our costumer support is quite overloaded with questions lately and paypal is major trouble to work with, we are switching to another service shortly. Thank you.
To investors, this is major update of great importance: Fonzie picked the "Armageddong" thing today. He said he would personally test every single pieces!
On est pas loin d'une comm' à la Falco Girgis :(
La mise en scène est faussement à l'arrache, notez la serviette de bain de couleur complémentaire au rose pliées méticuleusement de façon peu orthodoxe ainsi que la grande plaque blanche plaquée contre la porte pour augmenter les contrastes.
Pour le coup des 50 usines il faut remonter la chaîne jusqu'au pétrolier fournissant le plasturgiste?
Posted by matteus - ... and preorders are opening again soon...
Barone on sega-16 : LOUL
+1, ne pas prendre les gens pour des cons, mais ne pas oublier qu'ils le sont
07/12/2017 - 18:44
That's good news!
Watermelon "Ignoring customers since 2004!"
07/12/2017 - 20:54
See if it is true and in 15 days is already running, that the game arrives in January or February.
La chica se merece algo mas que un cerdo!
07/12/2017 - 20:58
That's good news!
Yes, for
...
uipneu 05/09/2017 - 20:49
Bon, à l'évidence cela n'est pas préjudiciable pour l'image de la société, voir même le contraire, suffit de voir les commentaires complaisants sur JVC :
http://www.jeuxvideo.com/news/705572/paprium-watermelon-annonce-le-report-de-son-beat-em-all.htm
Les pré-commandes fument au point de faire sauter la banque PayPal malgré le peu d'informations distillées au compte goutte durant ces 5 dernières années sur le jeu en lui même ainsi que les innombrables promesses non gratifiées "vidéo de gameplay, tea time, wip etc...".
Pourquoi changer son fusil d'épaule, comme Martin, Fonzie capitalise sur le mystère planant autour du projet et ce ne sont pas les rares investisseurs grincheux radotant comme moi à chaque pet foireux de
qui allons changer la donne.
Un mépris payant, ce qui a le mérite de faire mentir le bon sens en prenant à rebours les codes de bienséance.
Voyant les commentaires sur Facebook, je pense ne pas m'être trompé.
Fonzie maîtrise parfaitement son business et la ritournelle des précommandes bat son plein.
Dans ce domaine, face à la candeur d'un Tulio qui n'oserait pas pousser le bouchon aussi loin, force est d'accepter ce triste cirque qui pour ma part ne me fait plus rire.
07/12/2017 - 22:38
what is this picture ?????!!!!!!!!!

wtf ?

seriously
07/12/2017 - 22:40
the artistic direction of the communication is giving me some serious doubts about the one of the game
08/12/2017 - 09:16
See if it is true and in 15 days is already running, that the game arrives in January or February
No chance! Unless hoards of hidden beta testers are behind the scenes I'm not convinced.
16bits is all he needs
08/12/2017 - 22:51
It's already been beta tested. If you are not immensly excited by this latest news you are wasting your time commenting..

This is HAPPENING!!


There is always PAPRIUM
08/12/2017 - 23:20
It's already been beta tested.
A few pages back indicates the opposite, as the words of Goldenboy attests for example.
immensly excited
Just that, wow, it's true that we feel the effervescence on the forum.
you are wasting your time commenting
As your comment proves.
We "the investors of the first hour" feel come an umpteenth layer of hollow palaver to push the release date and at the same time inflate pre-orders to the maximum before starting production.
09/12/2017 - 18:52
Until I see it ....... I will not believe it
NO MORE LIES, NO MORE DECEPTS, NO MORE FEASTS, NO MORE EXCUSES.
I WANT MY GAMES NOW!
OR MY MONEY NOW!
La chica se merece algo mas que un cerdo!
You may want to sign-in or register to reply to this message.